A Guide To An Artistic Capsule Wardrobe
The ideal number that works for the capsule wardrobe is 333, meaning 33 pieces of clothing for three months.
There is no one way or the right way, to begin with, your minimalist wardrobe. It is a simple attempt to understand oneself, and styling. The idea behind a capsule wardrobe is to focus on personal styling apart from being essential in finding confidence, conscious consumption, and less clutter. The way to build a capsule is to add neutrals, clear lines and simple patterns as there are no such rigid rules for a capsule wardrobe. Nonetheless, the motive is to enjoy a less hectic, time-consuming closet with a thoughtfully curated wardrobe.
The Basics to build a capsule wardrobe:
A wardrobe with limited, carefully selected pieces of clothing, shoes and accessories, incorporate 30 to 50 items, for a specific period. Generally, the ideal number that works for the capsule wardrobe is 333, which means 33 pieces of clothing for three months.
Starting with a capsule wardrobe could be a two-step process, First, is to level up your current wardrobe by pulling everything out of your closet and piling them up, clothes, shoes, accessories, and everything. Then separate into what you like, love and the other what you would like to donate, sell, or toss as junk.
A pro tip to make the first step easier is to let those items go which haven't been worn for six months and you aren't willing to wear it out in public whether be it for its style or size issue. It is now time to focus on the pile which is ready to be a part of your capsule wardrobe while the other could go up for donation or recycling.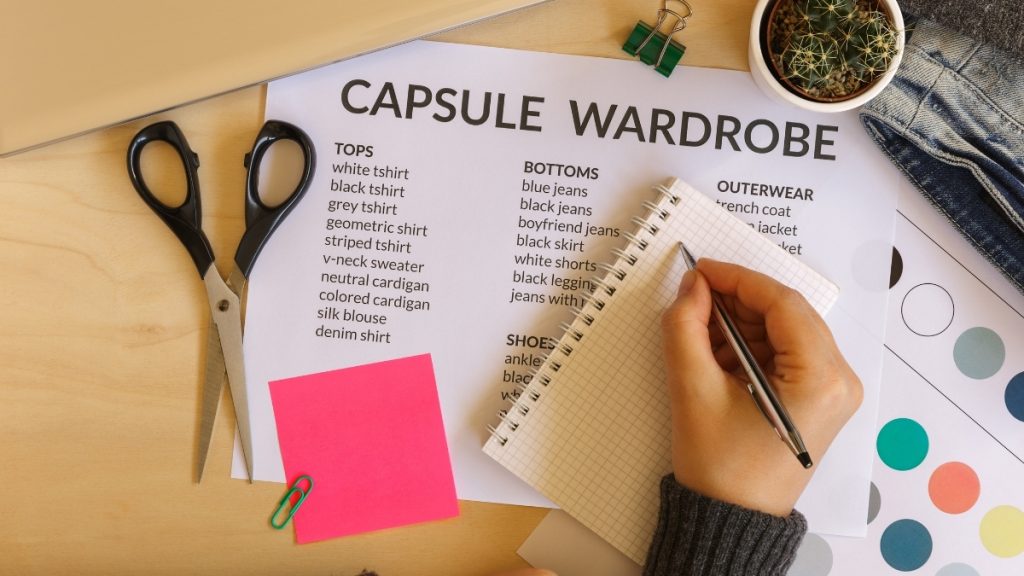 Select one or two most liked items from each of these categories, depending on what you like, feels comfortable and suits best your personal style:
Pants
Jeans
Skirts
Dresses
Tees
Nice tops
Sweaters
 Blazers
Shoes
Accessories (bags, eyewear, scarves, etc)
Once you know your favourites, the next step is to exclude until you make it to your ideal number keeping in mind that the essence is to mix and match, to play with the colour scheme and style throughout the entire capsule. Like a printed shirt that works great for your office look and a party with friends.
A capsule wardrobe is an exploratory process, a practice as one won't be making perfect picks every time, hence one can have golden flexibility in the process of personal styling. Try keeping the first capsule as a trial and notice what's working and what's not so your next capsule could be better personalized.
And in a few days or months, if one realizes that a piece in your current collection doesn't your wardrobe needs, it is okay to invest in a piece that goes well with your capsule. And a  capsule wardrobe is a good opportunity to sharpen your style and figure out who you are, besides being a game changer as long it is not an excuse for a major shopping spree every few months.